Old Boy goes live on BBC Breakfast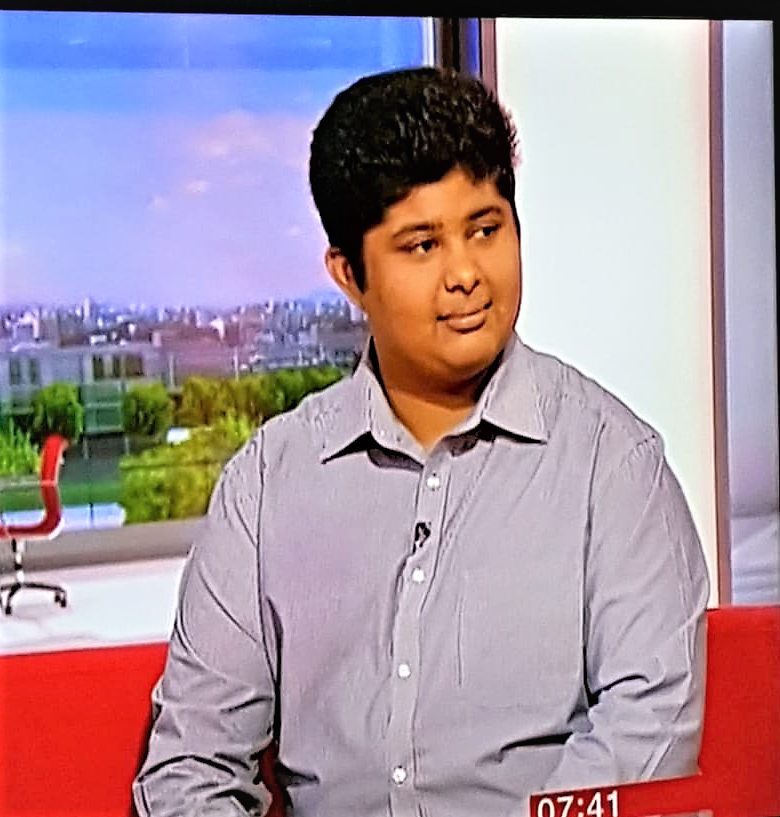 Hrishi Vankatesh, a former ESB learner and Old Boy of Merchant Taylors, spoke about how he has become a confident communicator through his ESB assessments. He also shared his top tips for people who are nervous of speaking in public.
He also spoke about his personal journey since being diagnosed on the Autistic Spectrum, and how ESB has helped him to grow in confidence and communicate well with others.
ESB's Chief Executive, Tina Renshaw accompanied Hrishi to the BBC studios, and says,
"We enjoyed an exciting morning taking part in a topical dialogue on the importance of oracy. Hrishi spoke eloquently to the BBC audience of over 1.5 million viewers. It was very supportive of presenter Dan Walker to take such a personal interest in the issue by tweeting to his 515,000 followers about the value of public speaking".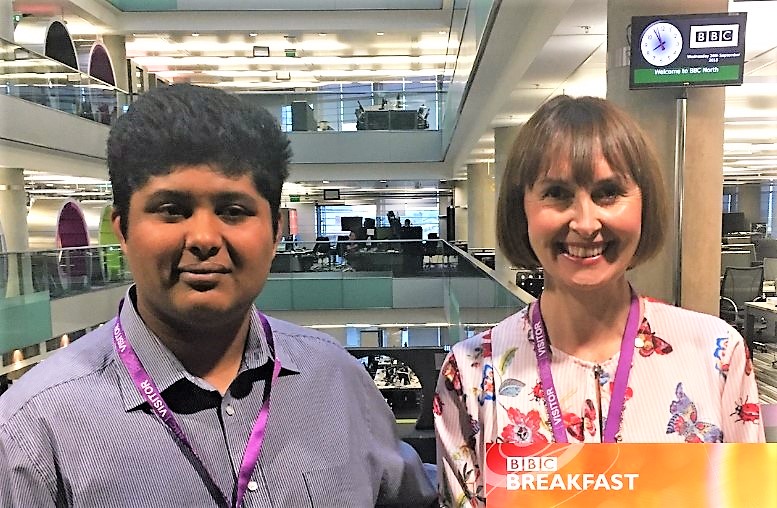 On the programme, Hrishi said: "When I started with English Speaking Board, it really helped to boost my confidence and just made me feel like people wanted to hear what I wanted to say".
Tina added: "Hrishi's performance on BBC Breakfast follows his recent appearance at the Houses of Parliament speaking on ESB's behalf on the subject of oracy. He is also joining us at our Young Speaker of the Year event in November, as a worthy winner of our ESB Ambassador award".
On his time at School, Deputy Headmaster Bob Simpson said: "Joining the school in 2010, it did not take Hrishi long to make a significant contribution to Debating at MTBS. Within weeks he was a pivotal presence in GTX Debating and as a Year 7 was a regular contributor to the Grensted Debating Society, often pitting his wits against Sixth Formers. As time went on, Hrishi featured in a number of external competitions, including the Schools' Mace as a Year 10 student, and his love of general knowledge, current affairs and politics ensured that Hrishi was a lively and well-informed debater all the way through his Sixth Form career".
"It comes as no surprise that he continues to champion this most vital of skills. Indeed, Hrishi's legacy to the school is that debating is firmly embedded in our curriculum as well as being a popular extra-curricular option".
For further information on ESB please contact:
Debbie Bassett, Communications Officer
01695 573439 (ext.212) [email protected]
ESB is a national awarding body with a mission to promote clear, effective communication at all levels by providing high quality products and services domestically and internationally, recognising and encouraging the potential of all. With over 65 years' experience in giving young people a voice, oracy skills and a recognised qualification, ESB supports schools, young people's groups, colleges and universities to build confidence in communicating.
We use cookies on our website to give you the most relevant experience by remembering your preferences and repeat visits. By clicking "Accept All", you consent to the use of ALL the cookies. However, you may visit "Cookie Settings" to provide a controlled consent.
Privacy Overview
This website uses cookies to improve your experience while you navigate through the website. Out of these, the cookies that are categorized as necessary are stored on your browser as they are essential for the working of basic functionalities of the website. We also use third-party cookies that help us analyze and understand how you use this website. These cookies will be stored in your browser only with your consent. You also have the option to opt-out of these cookies. But opting out of some of these cookies may affect your browsing experience.