Sefton Super Reads 2019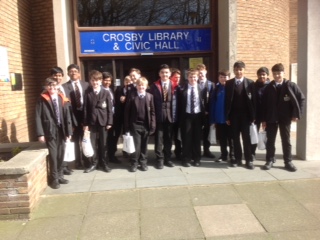 On Tuesday 26th March sixteen boys, Joseph Bigley, Charlie Johnson, Alex Meadows, James Randall, Zac Richardson, Sulaimaan Ahmed, Raiden Swindells, Matthew Hannon, Junior Connor, Hugh Lawrence, Rajan Naidoo, Harry Wynne, Buckley Loftus, Raveen Mallawa, Hemanth Bheemireddy, and Methul Gamage, went to Crosby Library for the Sefton Super Reads award afternoon.
Pupils from several local schools gathered to hear two of the shortlisted writers, Ele Fountain, author of Boy 87, and Sylvia Bishop, author of The Secret of the Night Train, talk about the inspiration for their writing, and the background to the books. Boy 87 was written in Addis Ababa, where Ele and her family had moved. Some of the characters were based on the Ethiopian women she had met there. As she had been a publisher's editor before she wrote her own novel, Ele decided to use a pseudonym so she was unknown to publishers, who accepted her book on its own merits. Ele's favourite authors include Philip Reeve and Patrick Ness, while Sylvia loves John Steinbeck. As Sylvia loves to do research, she made the train journey from Paris to Istanbul, before using it in her book. She is now working on a novel about smugglers in the eighteenth century, researching in the National Maritime Museum and its library.
Pupils asked some very perceptive and searching questions, before the winners of the book review competition were announced. Rajan Naidoo won a prize for his review of Charlie and Me by Mark Lowery. The winner of Sefton Super Reads 2019 was Boy 87, the first award Ele has ever won. She said she was especially delighted, as this award is decided by the votes of children.
Mrs Rea and Mrs Coleman, and all the boys, enjoyed spending the afternoon hearing about books
We use cookies on our website to give you the most relevant experience by remembering your preferences and repeat visits. By clicking "Accept All", you consent to the use of ALL the cookies. However, you may visit "Cookie Settings" to provide a controlled consent.
Privacy Overview
This website uses cookies to improve your experience while you navigate through the website. Out of these, the cookies that are categorized as necessary are stored on your browser as they are essential for the working of basic functionalities of the website. We also use third-party cookies that help us analyze and understand how you use this website. These cookies will be stored in your browser only with your consent. You also have the option to opt-out of these cookies. But opting out of some of these cookies may affect your browsing experience.