Departments
Merchant Taylors' Junior Boys' School offer an excellent academic education in a caring and supportive environment. Boys are encouraged to develop their individual talents and have a love of life. We want our boys to have a passion for learning which goes far beyond the classroom so we offer the opportunities for creative thinking, individual learning and adventure.
To have a look at individual departments please click on the departmental links below:
Art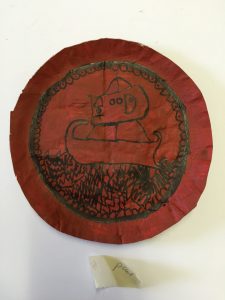 In Art the boys take part in a wide range of lessons to encourage their creativity, personal expression and enthusiasm, stretching their skills. Throughout the boys' time in the Junior school a varied range of artists are studied to develop their understanding and knowledge of a wide variety of styles, techniques, art mediums and materials (2D and 3D). Emphasis is placed on experimentation and leads to an understanding of the importance of art and design in everyday life. Sketchbooks and work booklets are used as tools to provide artist information, practise techniques and record ideas in preparation for final piece display work. They make a good record of progress and development. The Junior school corridors serve as our own personal Merchants Art gallery.
In Junior 3 pupils develop their knowledge and understanding of colour theory – (primary & secondary colours), developing their pencil skills through sketching, and painting techniques using watercolours. 3D art is explored through the use of clay, mod roc and other modelling materials.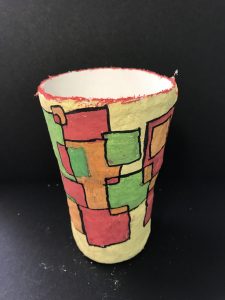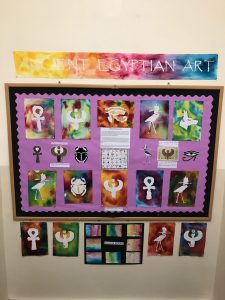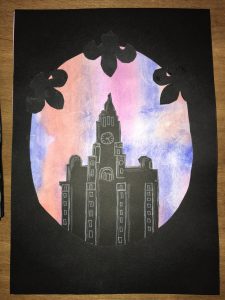 In Junior 4 pupils continue to develop their knowledge and understanding of colour theory, exploring what the Ancient Egyptians used to made paint and well as colour mixing using fabric dye. Drawing skills are further developed through use of shade and tone, observational drawing and portraiture. The Egyptian art topic examines art textiles using the Batik technique working with fabric and fabric dye. Painting techniques are further developed with the introduction to acrylic paints via painting on papyrus paper. Boys are introduced to the art medium of collage as a means to creating art.
In Junior 5 pupils focus more closely on artist's styles of drawing, painting and use of colour. We build on drawing skills taught in Junior 4 progressing from portraiture to figurative art, drawing figures.  Art is explored through the eras of the Victorians, Industrialists and Ancient Greeks. 3D art is created using mod roc and Papier Mache.
Junior 6 bring together all of the boys' prior taught skills of drawing, painting, art textiles, 3D art and collage to produce more personalised pieces of art, demonstrating their interpretation of the artists explored.
Design & Technology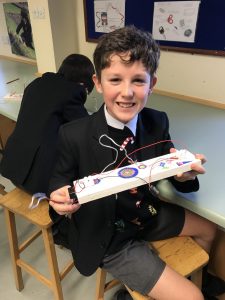 In Design & Technology, we strive to provide an enriching environment in which boys will learn to draw, design, and build in a structured and enjoyable way. The DT room is well-appointed with a wide range of equipment and materials, enabling boys to design and manufacture to a high standard. All projects link to cross-curricular STEM subjects such as science, maths and ICT as well as Art and history. Work booklets are used as a tool for providing pupils with designer information, as well as a means of recording ideas in preparation for final manufactured products and self-assessments.
Boys enjoy Design & Technology for a wide range of reasons. For some it is the problem-solving aspect, a useful addition to their more academic subjects. We believe that all boys will find the decision-making aspect of the subject to be an essential life skill, and we hope that for some at least, the sheer love of making things will remain a passion for the rest of their lives.
Our foundation course covers Junior 3 & 4, and is designed to give boys core skills needed to produce 3D models, with cutting and joining tasks explored to create historical masks, and musical instruments. Core skills continue to develop further in J4 to produce pop-up cards, pop-up books with moving parts and mechanisms such as levers and pivots. These projects provide the boys with the opportunity to use their creativity and design talents.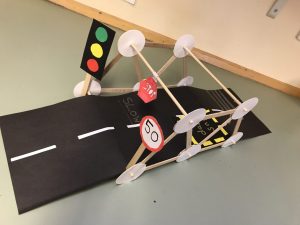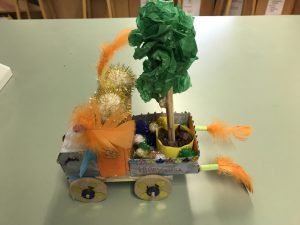 By Juniors 5 & 6 the boys have a thorough grounding in a range of designing and manufacturing skills. They are introduced to more challenging materials and equipment. In J5 pupils explore circuits, and make moving toys incorporating cam mechanisms. J6 explore structures and motors, making car axels. We consider graphics to be an essential part of the subject, so we teach the boys how to sketch in isometric and touch on some orthographic drawing in J6.
During practical lessons boys begin by learning basic bench techniques in wood, using hand tools and equipment. As they progress through J6, they are introduced to more complex skills which demand a higher standard of accuracy, and boys are encouraged to develop their own designing skills.
By the end of J6 the boys will be prepared to transition into year 7 with the knowledge, understanding and skills needed to design and make products, independently and to meet deadlines.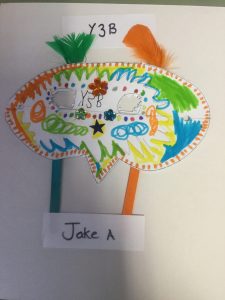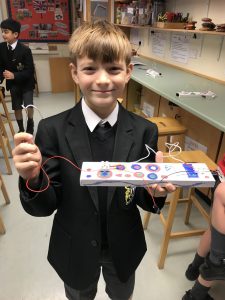 English
In English the boys are offered a wide range of lessons to foster enthusiasm and to stretch enquiring minds. High quality texts are studied to develop their understanding and interpretation of a wide variety of writing. Emphasis is placed on inference and deductive skills as well as literal interpretation. Boys are also encouraged to read extensively and to achieve the highest level possible (Platinum Plus) in our reading award scheme.
Regular author visits give the boys the opportunity to meet writers face to face, hear about latest releases and question them about how and why they write. In addition, the twice yearly Young Shakespeare Company visits enable the boys to participate in interactive Shakespeare workshops. Writing opportunities are varied using a wide range of different genres, film clips and drama as stimuli.
Geography
At Merchant Taylors' Junior School we feel that Geography is about more than knowing where places are to be found. We develop geographical skills, including the use of maps and photographs, enquiry about our own and different localities, investigating on field visits, where appropriate.
We develop knowledge of places and environments locally and throughout the world. The boys are involved in a range of problem solving and investigative work both inside and outside of the classroom.
As the pupils study geography they will learn about different societies and cultures, considering how their actions and values can change the environment.
Each Year group has three areas of Geography to cover during the year.
| | | | |
| --- | --- | --- | --- |
| Year 3 | Year 4 | Year 5 | Year 6 |
| Earthquakes | Local Area | Volcanoes | Climate Change |
| Sunshine State | Sustainability | Rivers | Fair Trade |
| Megacities | Jungles & Deserts | Mountains | National Parks |
Important subject knowledge is implicit in each enquiry but this is balanced with adequate time and opportunity for pupils to master key subject skills. This ensures progression in both the complexities of content and in terms of pupils applying their knowledge to achieve higher order outcomes as they move through the programme. The scheme that we follow, Collins; Connected Geography, contains enquiries that have been written to ensure that pupils are progressively challenged to achieve the following outcomes as they move through the programme. This progression reflects increasing mastery of the subject, which is highlighted in the learning objectives of each investigation:
| | | | | |
| --- | --- | --- | --- | --- |
| Name & Recognise | Identify | Locate | Describe | Observe, compare & Contrast |
| Reason | Measure, Record & Present | Understand through explanation | Conclude | Make Informed Judgements |
| Apply, Predict & Evaluate | Reflect | Critique | Hypothesise | |
In 2016, Merchant Taylors' Junior Boys' School were awarded The PGQM Silver Award.
Silver award schools 'lead effective whole school approaches that support excellence in geography'.
History
History at Merchant Taylors' Junior Boys' School follows a very carefully designed and resourced curriculum with a coherent, progressive and rigorous learning programme designed to engage and motivate pupils and encourage them to see the world through the eyes of young historians.
The areas of study in Years 3 and 4 are in chronological order and cover the Stone Age through to the Viking period of British and European history. The focus is on building knowledge and understanding as well as critical historical thinking skills, analysis of sources and evaluation of evidence to build a clear picture.
Years 5 and 6 takes a more global 'big picture' approach, and builds on the skills acquired during Year 3 and 4. Students are expected to be more critical of sources, using their skills of deduction and reason to develop their own conclusions and hypotheses based on evidence presented. They are encouraged to make judgements and apply their prior knowledge to add extra context to what they are learning.
ICT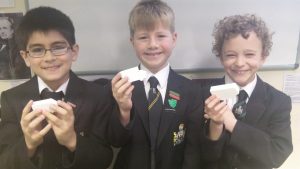 During our ICT & Computing lessons we focus on going above and beyond the National Curriculum with a bespoke scheme aimed to prepare the pupils for the Senior school and beyond. The first half each each term is always based around ICT where boys will complete projects such as Microsoft Publisher Calendars in Year 3 or creating their own Firefly pages in Year 6. E-Safety also features consistently throughout the year and we aim to help and support the boys in the digital worlds they explore.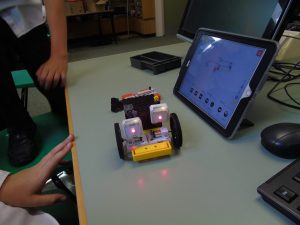 The second half of each term is based on Computing and Purple Mash's 2Code scheme is used to introduce the pupils to programming in Years 3 and 4. They then progress onto MIT's popular Scratch program which is a fantastic resource aimed at create exciting projects whilst developing their programming skills to a high level. Pupils will also use our physical computing resources such as the 3D printer, Dash & Dot robots and Sam Labs. These are the most popular sessions throughout the year as pupils are able to see their ideas and creations come to life. We liaise closely with the Senior school to ensure our pupils are well prepared for the expectations of Year 7 and beyond. There are also weekly ICT sessions for Years 5 and 6 where boys often enjoy programming in their own time.
Mathematics
Our Mathematics syllabus follows that laid down in the National Curriculum at Key Stage Two, though this often extends into work normally covered in Key Stage Three. The work involved is both challenging and enjoyable and the boys are encouraged to participate fully to extend their knowledge base.
The work covered includes individual work, together with collaborative exercises where the boys learn from their own, and their peers, experiences.
Classwork is supplemented by regular homework in a range of topics based around work covered in school.
Our Key Stage Two SATs results over the past few years have been excellent, thanks to the hard work from both staff and pupils.
Year 3 Maths Booklet For New Parents
Year 4 Maths Booklet For New Parents
Year 5 Maths Booklet For New Parents
Year 6 Maths Booklet For New Parents
Modern Foreign Languages
Our Junior School French syllabus, administered by two or three experienced linguists from the Senior School, has three chief objectives; the development of communication facility, the cultivation of learning skills and the nurture of cultural awareness. This being the case, much of the work we do dovetails with or parallels the pupils' research in other subjects – history, geography, and English, for instance. Since each form has only one French lesson a week, one of our aims is to revise from year to year material which has already been learned, but to add to it. A Y4 boy might expect to learn basic food vocabulary, which will be extended in Y5 with a look at restaurant role play and further consolidated with work on shopping and money in Y6.
Topics covered are many and varied, ranging from simple alphabet, number, weather and colour vocabulary via family, food, school, clock time, nationalities, transport, town and clothes to quite sophisticated work on the body and health and a look at the history of the French Revolution. In addition we introduce simple grammar at an early stage. The study of leisure activities or of the 'fête des rois' (when the king or queen for the day gives orders to the rest of the family) are both excellent introductions to the way verbs are structured and used; colours can be used to demonstrate that French adjectives change in the feminine and are to be found after the noun.
Obviously all this has to be done in a way that captures a child's imagination, so our lessons incorporate physical games and songs, drawing and craft, word play, DVDs, rôle play and the Internet. In recent years we have also offered to Y5 and Y6 an Easter trip to Normandy, which has been tremendous fun. We believe wholeheartedly that the love of language should be instilled early, and the boys respond with enthusiasm.
Music
Music is a major part of our school life. The boys are encouraged to participate in their timetabled music lesson each week, where they cover a range of topics from singing to playing musical instruments, including recorders. The whole school take part in singing as part of our school assemblies and weekly hymn practice.
Our school is lucky to have a group of enthusiastic boys from Junior 5 and 6 who form the Junior School Choir. The choir sings at concerts, hosted by themselves, at various times in the school year. They also perform at local residential homes at Christmas time and, of course, the annual Merchant Taylors' Carol Concert.
The boys in the Junior School are encouraged to play a musical instrument, taking advantage of the peripatetic teachers specialising in a wide range of instruments. Recorders are introduced in Junior 4 as a way of learning the rudiments of music. This is carried on into Junior 5 and beyond. We have a fantastic Brass Band which performs at various events during the year.
Music is a valuable subject, which encompasses a range of skills. It is an important discipline – one that is enjoyed by all of the boys in the school.
Physical Education
Winter – Our main winter sports are rugby, played on the school field, and swimming. We have enjoyed considerable success in both over the years regularly reaching regional and national finals.
The rugby teams play all over the North West for Blackpool to Shrewsbury and over the last couple of years have been NW Independent Schools' Sevens and twelve-a-side champions. Boys learn rugby from the age of seven. Skills are developed with tag rugby initially, quickly moving on to the nine-a-side version of the game. Contact skills are gradually introduced and the boys can play for the school team at Under 9 level (Year 4).
Our strong extra curricular programme includes our swimming team who have been unbeaten for the last 12 years, and have reached the national finals each year for the same length of time.
In summer the boys play cricket and take part in athletics. We have 'A' and 'B' teams in cricket, meaning that as many boys as possible can represent the school, and net practices after school are hugely popular.
Religious Education & PSHE
Religious Education
Pupils at Merchant Taylors' Junior School:
Acquire knowledge and understanding of religion and develop the ability to make reasoned and informed judgements about Christianity and the other principal religions represented
Develop a respect for of beliefs, values and traditions on individuals, communities, societies and cultures
Consider their responsibilities to themselves and others so that they can contribute to their communities and to a wider society
Develop a sense of wonder, awe and mystery.
PSHE
The PSHE curriculum at Merchant Taylors' Junior Boys' School gives pupils the knowledge, skills and understanding that they need to stay healthy and safe, develop worthwhile relationships, respect differences, develop independence and responsibility, and make the most of their own abilities and those of others.
It aims to help them understand how they are developing personally and socially and tackles many of the moral, social and cultural issues that are part of growing up.
It also gives children an understanding of the rights and responsibilities which are part of being a good citizen and introduces them to some of the principles of prudent financial planning and understanding.
Science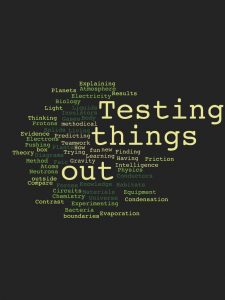 The Science programme of study follows the National Curriculum at Key Stage Two. The lessons are both interesting and stimulating for the boys in the junior school, making use of a wide range of resources contained in our purpose built science room and nature garden.
The boys are able to plan and investigate a range of scientific experiments, both individually and in groups. This is enhanced by themed science days where the boys get 'hands-on' experience in a range of scientific topics.
Science in the Junior school plays an important role and we are are proud to have been awarded the Primary Science Quality Mark at silver level for our commitment to excellence in science teaching and learning. The award is the result of over 12 months of hard work in which the school was rigorously reviewed under several areas of key criteria.